An ecosystem for every training project
Intuitive planning, visual training analytics and many features that will contribute to performance. Planif is a powerful interface that answers the needs of athletes from beginner to experts, coaches, groups & clubs and sport events.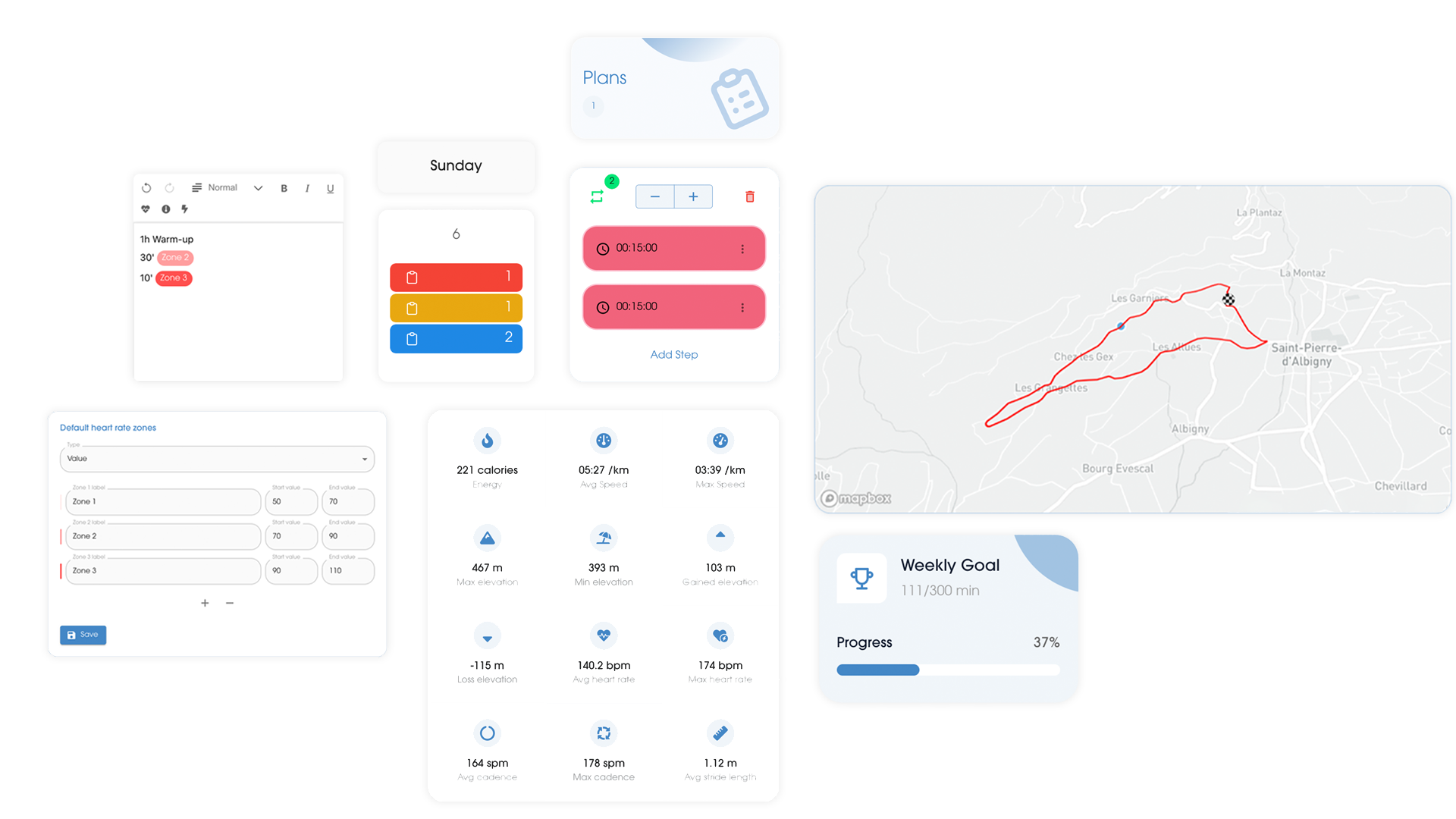 Interactive and adaptive planning
Coaches and athletes, take advantage of ergonomic tools to create training plans easily. Session priorities will enable our adaptive weekly training scheduler to take into account the athlete's availabilities. Planning sessions, training cycles and competitions has never been easier.
Communication and follow-up
Because we know that coaches need to monitor closely their athletes, we put in place the tools you need. Athletes can give feedback on sessions and communicate with their coaches via dedicated a messaging app.
All performances and activities are visible in one click, overviews of weekly, monthly or yearly training loads give could indications for future objectives. Coaching and training has never been so intuitive.
A Marketplace for everyone
Our goal is to create a Planif MarketpPlace where athletes can find training plans and sessions suited to their ambitions and their level. Either to discover new qualified coaches or to try out different sports, we want to offer the shoe that fits your foot.
Constantly looking for qualitfied coaches wanting to share their training knowledge, Planif MarketPlace is the best opportunity unlock new potentials.
Created by athletes for athletes, our primary goal is to support your needs. We created Planif with both specific and diversifed features and tools. We understand the requirements of training and wanted to offer an ergonomic solution.


Upload pictures & videos on training session to show how to exercice or to perform motion analysis



Synchronise your devices (Garmin, Polar etc.) to upload or download training content


Use the adaptive training scheduler to organise your training weeks or the ones of your athlete



Benefit from flexible offering: no hidden fees, pay for what you need and change your offer at any time
Athlete
From beginner to expert, Planif will unlock your potential and facilitate your training management. Train on your own, with your coach or find a suited training plan, everything is possible.
Coach
Managing the schedules of your athletes and planning their racing season has never been easier. With ergonomic tools, you can make groups, communicate with your athletes and share dynamic content. 
Group / Club
Centralize your team management and boost your members' engagement. Distribute coach and athlete accounts as it fits and share important information through smartphone notifications.
Sport Event
Offer something others don't have: specific and individualized training plans for your event. Dynamic and level suited training plans will help your participants to prepare for their goals.
Experience the convenience of having all your training and planification tools in one place with Planif. Download our app today on the App Store or Google Play Store and start your journey to a healthier you!